Spring Volunteer Work Weekend
May 3, 2019 @ 6:00 pm

-

May 5, 2019 @ 11:00 am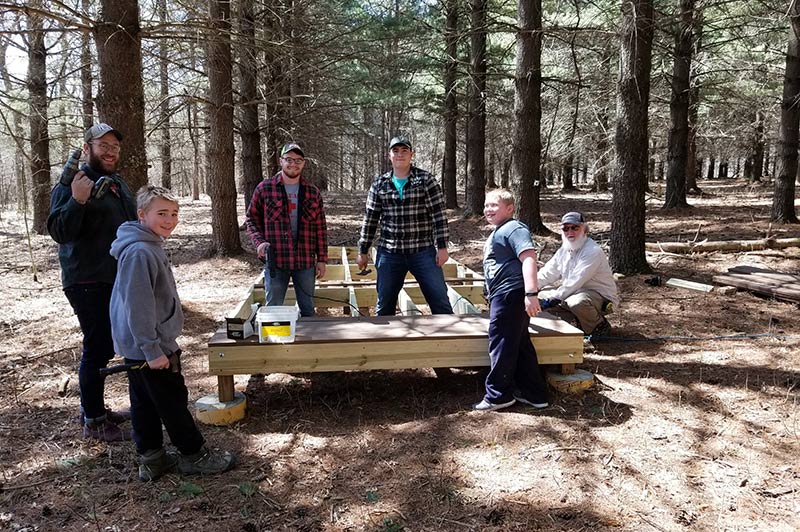 This weekend you will join other volunteers, families, and church groups to help Ewalu get ready for the summer season. We hope you take time to explore camp in your free time, get to know some of the camp staff and other volunteers, and return home renewed and refreshed from your time in this special place in God's kingdom.
Friday
6:00 p.m. Registration & Move In
7:00 p.m. Welcome at Creation Center
8:00 p.m. Campfire, S'mores
Saturday
8:00 a.m. Breakfast
9:00 a.m. Work Projects
12:00 p.m. Lunch
1:00 p.m. Work Projects
4:00 p.m. Games, snacks
5:00 p.m. Dinner
8:00 p.m. Campfire
Sunday
9:00 a.m. Brunch
10:00 a.m. Worship
Project
Building bridge on short nature trail
Build new wigwam in Foresters Village
Repair and paint Reflection Cabin
Finish carpentry work on Pioneer bunkhouse
Build new fire ring in north pine forest
Rebuild fire ring behind Walnut Lodge
Plant flowers, bushes, and weed flower beds
Plant garden at Pioneer Farm
Spread mulch on low ropes course
Trim trails throughout camp
Paint rooms in Cedar Lodge
Wash windows, tables, chairs
Split and stack wood
Thank you!
Volunteers are a big part of Camp Ewalu. We are very thankful for all the people who faithfully come to this "place apart" to serve, share, and grow in faith in God. Thank you for your hands of service!
2019 Spring Work Weekend Flyer
Contact: Paul Frantsen at 563-933-4700 or email property@ewalu.org
RSVP and book a room with: Diane Parker at 563-933-4700 or email office@ewalu.org
Related Events