2021 Fall Festival & Quilt Auction
September 18 @ 8:00 am

-

5:00 pm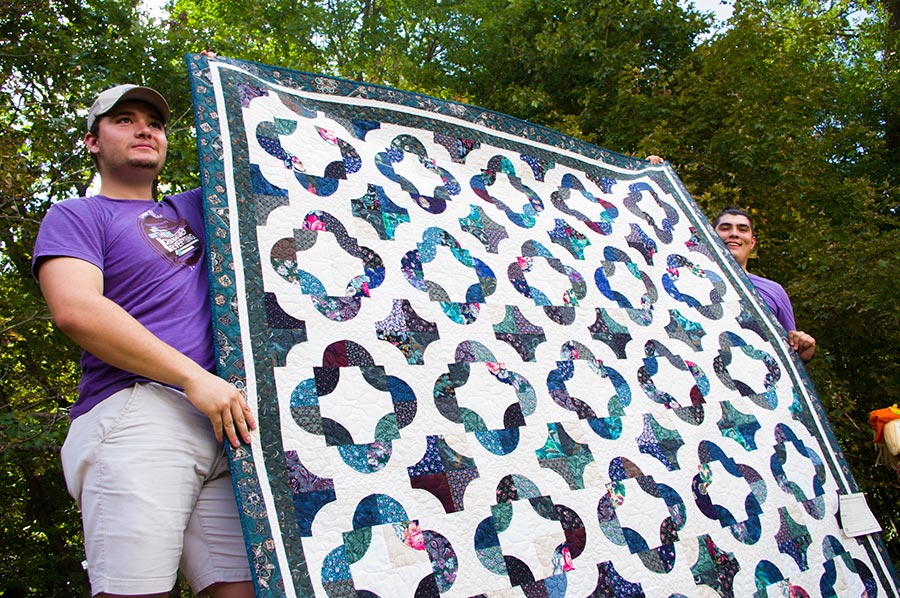 Join us for live music, a worship service, hayride tours of the camp, and quilts displayed for review.  A free-will lunch is served at noon and the auction itself starts at 1:00.  It is a day to celebrate and support the incredible ministry that occurs at Camp Ewalu.
This year's Quilt Auction will run as a hybrid online and in-person auction. One-hundred quilts will be available for auction on-site during our traditional quilt auction on September, 18th 2021. Participants can bid on an additional one-hundred quilts online during the week before the in-person auction and for one day after the in-person auction.
Online quilt viewing and registration will begin on Wednesday, Sept. 1, at https://charityauction.bid/EwaluQuiltAuction.
Schedule
Wednesday, Sept. 1 – Online quilt viewing and registration begins.
Monday, Sept. 13, 12:00 p.m. – Online bidding begins
Friday, Sept. 17, 6:00 p.m. – Country Store bidding closes online
Saturday, Sept. 18 (In person at Camp Ewalu)
9:00 a.m. – Quilt viewing beings and country store opens
11:00 a.m. – Devotional worship service
12:00 p.m. – Freewill lunch begins
1:00 p.m. – Live quilt auction (bidding resumes from online auction)
Sunday, Sept. 19, 7:00 p.m. – Online bidding closes
Bidding Changes for 2021
We have made some changes to our original auction format for this year to accommodate updates with our auction program.
One-hundred quilts will be auctioned off in our on-site auction on September 18th at Camp Ewalu.
An additional one-hundred quilts will be available on our online auction so be sure to check out both auctions.
We can no longer accept "proxy bids" for quilts in the on-site auction online. If you see an item you wish to bid on and are unable to attend the onsite auction you may email miranda@ewalu.org with the maximum amount you are willing to pay for that item.
Covid-19 Mitigations

In line with CDC recommendations, we are encouraging everyone able to receive a vaccine to be fully vaccinated before attending any events at Camp Ewalu, including the 60th Anniversary and Fall Festival & Quilt Auction.
Masks will be required indoors at both of these events.  We will be holding as many activities as possible, including meals outside.  At outside events masks are required for those who are not vaccinated except when eating or drinking, and optional for those who are.  If you feel safer with a mask you are encouraged to wear one.  If you are sick or have had a known Covid-19 exposure or positive test in the last 10 days please do not attend.  Any deposits paid will be fully refunded if a cancellation is made due to a Covid-19 concern.
Because of the current surge in Covid-19 infections in Iowa, these mitigation standards are subject to change.  We will post any additional updates on our website and social media pages.
Visit http://ewalu.org/fall-festival-quilt-auction/ for more information.