Service of Farewell & Welcome
January 22 @ 2:00 pm

-

2:30 pm
Event Navigation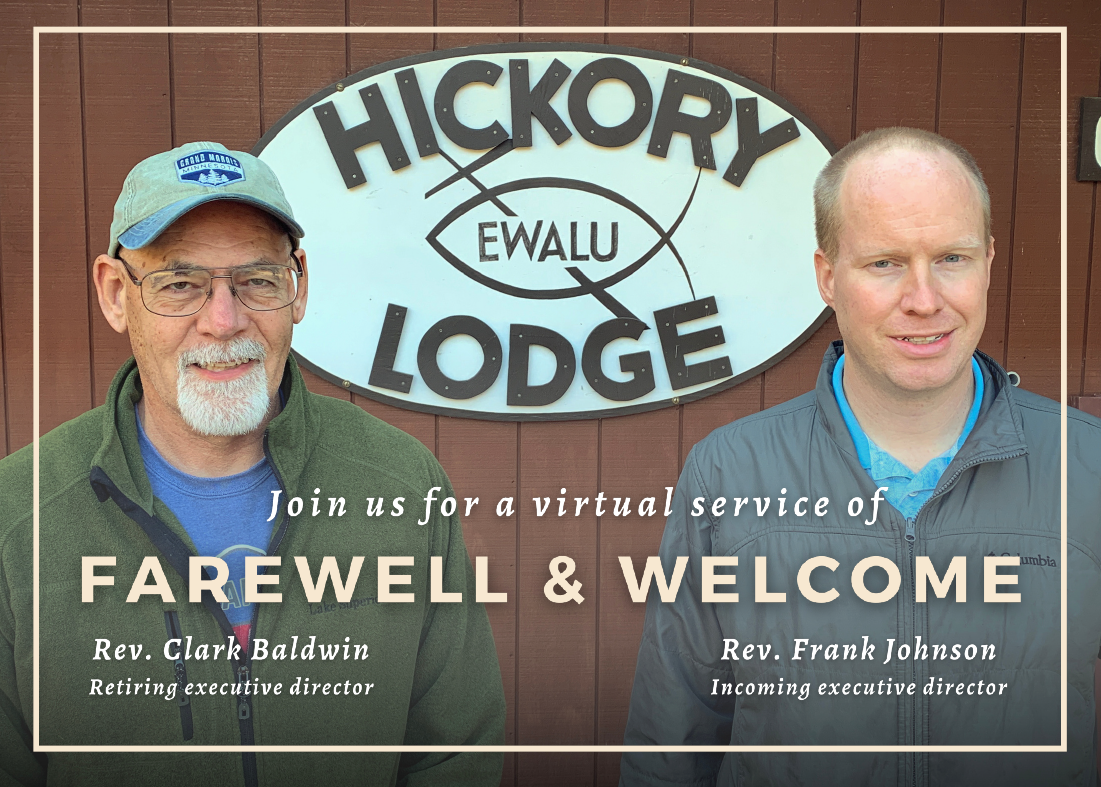 Join us as we honor the service of Pastor Clark Baldwin, retiring executive director, and welcome Pastor Frank Johnson, our incoming executive director, during this virtual service on Saturday, Jan. 22, at 2 p.m. on our Facebook page: www.facebook.com/EwaluBibleCamp
Due to the pandemic, this will be a virtual-only program that can be watched on Ewalu's Facebook page. The video will be saved to view anytime after Jan. 22 if you can't watch it live.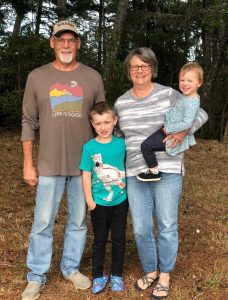 About Clark Baldwin:
After nine years guiding Camp Ewalu through growth and into a strong financial position, Clark is retiring to spend more time with family, including grandchildren in Minnesota and Oregon.
"For quite a while, I have been looking forward to getting to spend more hours on my 'grandpa job'; Cassidy and Wyatt said they agree with me," said Clark. "I hope to stay involved in some way, on a part-time basis, with outdoor and youth ministry. But for now I need to spend some time getting to know my grandson and granddaughter, who haven't seen me very much."
Clark and his wife, Shiloy, who has worked as Ewalu's bookkeeper, are relocating to Rochester, Minn., to be closer to family. Before pursuing his passion for ministry and coming to Ewalu in 2012, Clark had worked 30 years in the banking and manufacturing industries.
Clark's leadership has been a blessing to the camp. Ewalu's long-term debt is scheduled to be paid off in 2021 thanks to Clark's financial background and work developing donors and church relationships.
Among the highlights at Camp Ewalu during Clark's tenure are:
Increase in summer campers
Increase in annual donor support
Increase in congregational support
Reduction in long-term debt
Increase in endowment income
Safe summer and retreat programming in 2020-21
Converting to high-speed internet, Voice Over IP, and electronic vs. manual operating systems
In addition to leading the ministry at Ewalu, he has served One in Faith Parish, which serves four Lutheran churches in rural northeast Iowa, since 2016 and was ordained in 2020 in the Evangelical Lutheran Church of American (ELCA).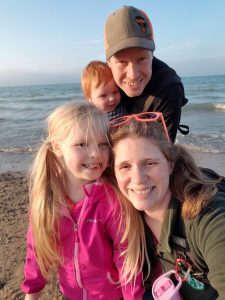 About Frank Johnson:
Most recently the executive director of Red Willow Ministries in eastern North Dakota, Frank also served several years in parish ministry in northern Minnesota. He and his wife, Kate, have two children, Natalie and Elias, and are expecting a baby boy in February.
"We are excited to be part of the community of Strawberry Point and the wide cloud of supporters who love Ewalu — to live in the driftless, for trout streams and small communities, dirt trails and canoeing, coffee shops, art, and music, and the opportunity to be part of camping ministry in Northeast Iowa," says Frank, who began as Ewalu's sixth executive director in December 2021.
Ewalu celebrated its 60-year anniversary and hosted an all-camp reunion this summer. The groundwork has been laid for a capital campaign for improvements to Cedar Lodge, the camp's largest building, which will launch in 2022.
Related Events