Summer Assistant Cook
Summary: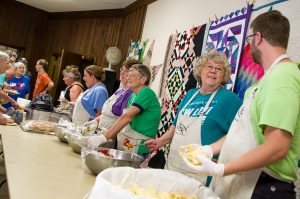 Quality food service is important to our ministry at Camp Ewalu! This person prepares and serves (or helps other food service personnel prepare and serve) meals and/or food during summer camp season to registered campers, visitors, volunteers and staff at our main camp location (3 miles west of Strawberry Point) in a commercial kitchen.
This position is part-time and seasonal, during our busy summer season. Hours are flexible and vary during the week. Food service experience is a plus, but not required. We will train you!
Reports directly to food service director.
Must be able to lift at least 50lbs and be able to stand for a period of time.
Starting pay is $11.00 per hour.
Other qualifications: 
A commitment to the Christian faith and to the mission, core values and ministry of Ewalu Camp and Retreat Center
Organizational ability and ability to prioritize and complete tasks on time
Ability to work in a team environment
Desire and ability to work in a camp setting
Must be organized and neat
Be able to lift up to 50 lbs
Able to handle hot food safely
Able to read and follow written directions and recipes
Has a working knowledge of State of Iowa Food license requirements in regards to sanitation and safe food handling
Able to reach and work overhead
Comfortable on stepstools
Flexible hours
Responsibilities:
Help serve meals, snacks or special event food requirements at the Ewalu main site
Help prepare food for meals to be served so food preparation and meals are ready for service as scheduled
Assist with all cleanup and dishwashing as needed or directed by supervisor
Work directly with other food service staff
Report any maintenance issues to Food Service or Housekeeping Director
Perform other duties as assigned
To Apply
To apply, submit your application and current résumé by email (foodservice@ewalu.org) or mail. For more information, call 563-933-4700 or email foodservice@ewalu.org.
Resources