Enjoy the best of the Ewalu trails in the beautiful fall season! Run or walk alongside the beautiful Maquoketa River, through quiet forests on well-kept and well-marked trails.
The 1st Grotto Gallop Trail Run will consist of two events—the 5-mile Grotto Gallop trail run and the 5K Fall Frolic trail run/walk. Both events will start and finish behind the Creation Center at the Ewalu main site, 3 miles west of Strawberry Point, and will run simultaneously with the race start at 9 a.m.
Date: Saturday, Oct. 7, 2023
Time: Race start at 9:00 a.m. near Creation Center
Location: Camp Ewalu Main Site, 37776 Alpha Ave, Strawberry Point, IA 52076 (click here for Google Map)
The course is 95% on trails, including both single- and double-track, grassy trails, rocky trails, and gravel trails. You'll see a little bit of everything in only a few miles! Bring the whole family for the 5K, and for those who want a longer run, opt for the 5-mile course.
All proceeds from the run/walk benefit Ewalu camperships for kids who need financial assistance attending camp.
REGISTRATION:
5K Fall Frolic registration: $25 by Sept. 23, $30 after Sept. 23 (same-day registration will be available on Oct. 7)
5-Mile Grotto Gallop registration: $25 by Sept. 23, $30 after Sept. 23 (same-day registration will be available on Oct. 7)
Register by Sept. 23 to get a race T-shirt! Tri-blend unisex T-shirts are military heather green and available in Adult sizes S-2XL and Youth sizes XS-XL. Those who register AFTER Sept. 23 will not be guaranteed a race shirt.
Click the button below, then sign in and select "2023 Ewalu Events" > "Add People, Sessions, Options" > "Ewalu Trail Run/Walk"
Ages 0-4 do not need to register — please note, they will NOT get a t-shirt.
NOTE ABOUT YOUNG CHILDREN: The trails often are NOT suitable for strollers and young children. The 5-Mile trail in particular is NOT a suitable option for young participants, and parents/guardians should use their own discretion when deciding to take young children on the 5K route. There will be trail stairs and possibly muddy conditions. Be ready to carry your little ones if you want to take them on the 5K route 🙂
Click here to see the route maps for both races.
Click here to see the Grotto Gallop Facebook Event page and follow our posts and updates!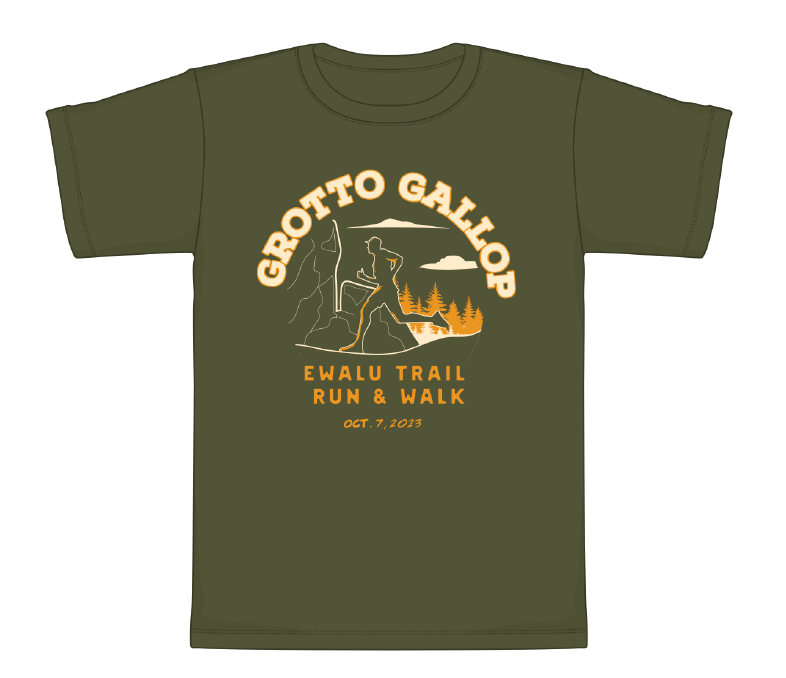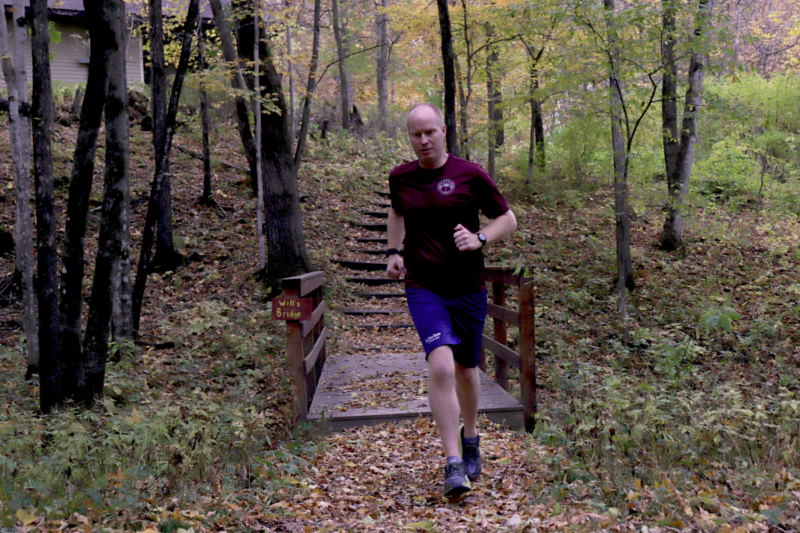 What are Ewalu's trails like in October? Pretty amazing! Watch a 10-minute film about Executive Director Frank Johnson's mile-per-hour marathon on the trails at Ewalu in October 2022: https://www.youtube.com/watch?v=VaKOJbLgAEc