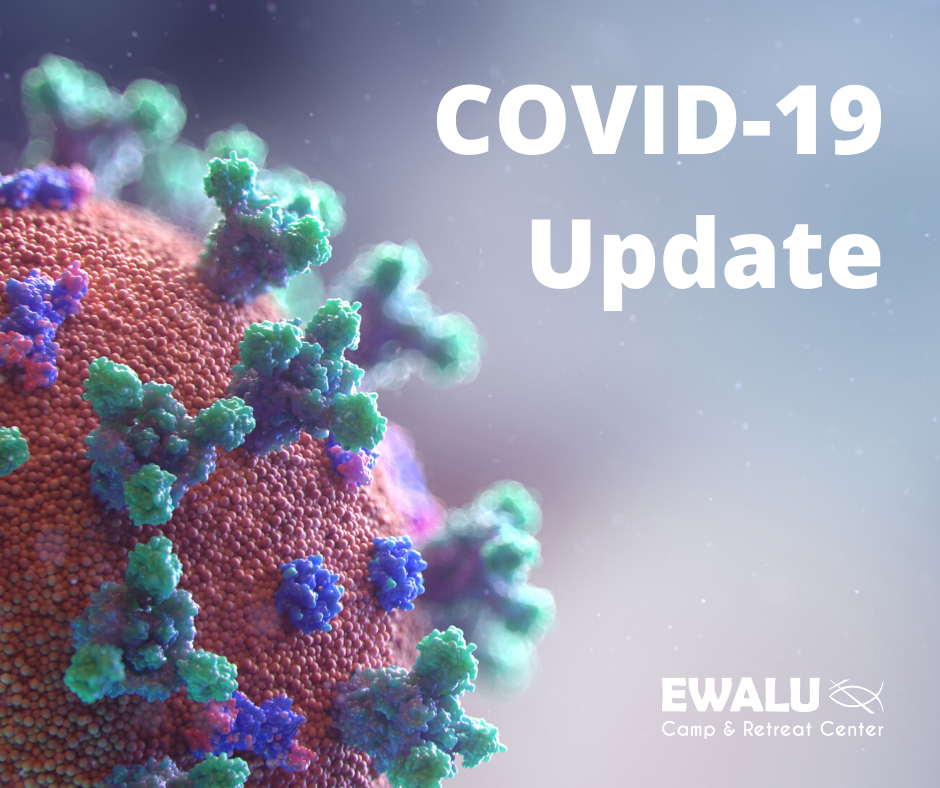 Update – May 8
At camp Ewalu, we hope for campers and staff to experience faith-forming and Christ-revealing moments this summer. The Board of Directors and staff have made the difficult decision to delay summer the start of summer camp to June 28th an to cancel our off-site Day Camp Program (VBS). We remain committed to hiring our summer staff and leadership training participants, two groups greatly impacted by our ministry. These are necessary actions to protect the entire community from the ongoing risks related to the Coronavirus pandemic.
Matthew 12:8 reminds us that Christ is the lord of the Sabbath. Christ is with us in this time of Sabbath of Ewalu's facilities. We are prayerfully waiting and listening to guidance from our governing bodies, including the American Camping Association, CDC, and the State of Iowa. We hope to move forward with summer camp beginning June 28. However, this date is subject to change. Please watch our Facebook page and website for updates.
We are continuing to work on implementing safety measures to lower risks for the remainder of the summer.
Our existing small-group village programming is well suited for social distancing measures.
We recommend that high-risk individuals (or those who live with them) consider staying home this summer.
We are taking extra measures to enhance sanitation practices.
We will implement basic health screenings for check-in and change our check-in process to allow for social distancing.
We will work with families who registered before the new start date to reschedule. We are offering additional measures to ensure every child the full camp experience this summer.
We are offering an additional week of camp from June 28 – July 3. Click to view the updated summer schedule.
Priority in rescheduling will go to campers who have already registered. Re-registration instructions have been emailed to families signed up in cancelled weeks, they may have be in a spam folder.
A full refund is available for families who cannot reschedule or choose to cancel their registration for health concerns. We ask that you consider donating your deposit back to Ewalu to sustain us during this time.
We are developing virtual and mailed ministry options for those unable to attend camp.
Closing our doors for summer camp, even for just a few weeks, will greatly impact Camp Ewalu financially. Please consider making a gift to Ewalu. We need your help to continue to proclaim Christ's love for us and the world.
Thank you for your prayers and support. Let us find comfort with Christ in this time of Sabbath.
Your Servant in Christ,
Clark Baldwin, Executive Director
Update – April 29
Volunteer Work Weekend Update: Camp Ewalu will be open Saturday, May 2nd, for Work Weekend with some changes and safety precautions.
Work projects are only scheduled for Saturday.
We will no longer be offering lodging.
We will keep all work groups under the ten-person limit.
A sack lunch will be provided rather than a buffet-style meal.
We also encourage volunteers to bring face masks to wear while working.
Update – April 1
All spring events are postponed or canceled through April 30th.  We will contact those groups that are impacted by this action.
Summer Camp at Ewalu will go on as planned at this time, with enhanced sanitation and health screenings for check-in. We are waiting and watching this situation unfold while listening to the recommendations from our governing bodies.
If it is best to cancel summer camp for the safety of our guests and their families, all parents and guardians will be notified directly. Additionally, we will post to Facebook and our website these changes.
We will offer full refunds for summer camp, but we ask that you consider donating the deposit back to Ewalu to help sustain our ministry in this difficult time.
Additional updates will be provided on our Facebook page and website as the situation changes.  
Clark Baldwin
Executive Director
Update – March 17
The annual meeting for Camp Ewalu and Retreat Center is postponed indefinitely at this time in compliance with Iowa Department of Health and CDC guidelines to help prevent the spread of Covid-19.  We will continue to operate with the current board of directors, policies and interim board approved budget until such time as a meeting can be convened under safer circumstances.
We will also be postponing or cancelling all events for groups of ten or more until further notice and will be contacting those groups that are impacted by this action.
Additional updates will be provided on our Facebook page and website as the situation changes.  
Our prayers are with each of you as well as our church partners and other ministry partners during this time of anxiety and uncertainty.  May God's deep peace and presence be with you all.  We also ask for your continued support and prayers as we continue to adjust plans and schedules during this time.
Clark Baldwin
Executive Director
Update – March 13
At camp Ewalu we are continually grateful for the support from all our partners in ministry. We are taking steps to offer you support in this time of fear and uncertainty surrounding rapidly changing  COVID-19 pandemic. This includes staying up to date with and following the recommendations of the Iowa Department of Health, The CDC, and the American Camping Association (ACA).
There is currently no known community spread of COVID-19 in Iowa, and the Iowa Department of Public health is not recommending canceling events at this time. As of now, we will continue to hold all our spring events and retreats this spring, including the Annual Meeting next week.
Here's what steps Camp Ewalu is taking to support you this spring:
Continually monitoring the situation and following the recommendations of public health officials and the CDC.
Refunding deposits for any retreat groups who cancel or postpone their event because of COVID-19 concerns.
Increasing cleaning and sanitation protocols throughout camp's facilities.
Implementing hand sanitizing stations throughout our facility as well as clearly marking our hand washing stations.
Asking those who are high risk or unwell to stay home. The CDC recommends that vulnerable populations include people 60 and older, people with underlying health conditions including heart disease, lung disease or diabetes, people who have weakened immune systems, and people who are pregnant.
The new Coronavirus will have a significant impact on camp Ewalu and camping ministry which relies on retreat and event participation to continue sharing the gospel.
Here's how you can support Camp Ewalu in this uncertain time.
Stay informed. If you plan to visit or attend an event Camp Ewalu, please ensure you are taking part in the necessary health safety precautions, such as washing your hands for 20 seconds and staying home when you are sick.
If you choose to cancel your event or retreat, consider donating your returned deposit back to Ewalu.
Make a gift. Help us to continue to provide life-changing experiences to children and adults for many years to come.
Pray Continually. The effects of COVID-19 are felt in some way by everyone. Our hearts and prayers are with the sick, grieving, and afraid in this uncertain and time.
Thank you for your continued patience and support as we listen to our public health officials. And prepare to best support you in this time.
Clark Baldwin
Executive Director